Pont Jacques Chaban-Delmas, France
This sophisticated bridge in Bordeaux France can boast the title of
Europe's longest vertical lift bridge, with four traffic lanes and an outboard
sidewalk and bicycle lane. The lift structure has four independent
pylons towers supporting the span weight, and can lift to a height of
50 meters (164 feet).
2. Gateshead Millennium Bridge, UK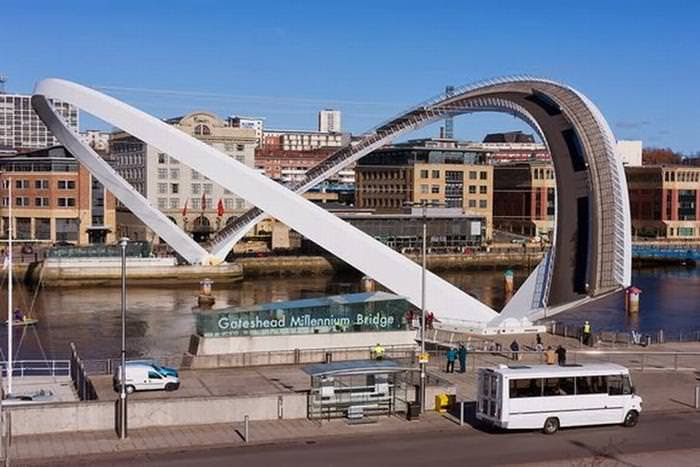 Spanning the River Tyne, this bridge is nicknamed the Winking Eye Bridge
because of its eye-shaped look when in motion. The bridge has a deck for
pedestrians and cyclists, and a supporting arch. The bridge rotates as a single
structure, with the arch lowering and the deck rising, counterbalancing
each other, forming a pathway for water traffic.
The Vizcaya Bridge in Biscay, Spain connects the two towns of Portugalete and
Las Arenas over the Ibaizabal River. The locals refer to the bridge as Puente
Colgante, meaning suspension bridge, even though it is a transporter
bridge, with a different structure. This bridge also happens to be the
world's oldest transporter bridge, as it was built in 1893. Its gondola can
transport six cars, as well as passengers and cyclists
4. Submersible Bridges, Corinth Canal, Greece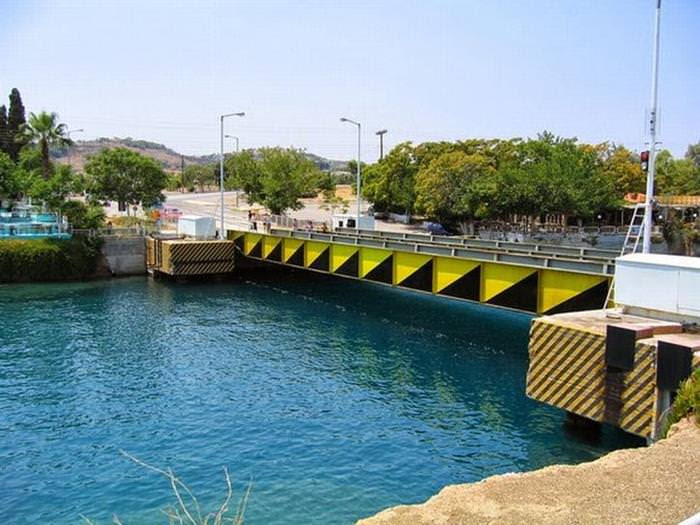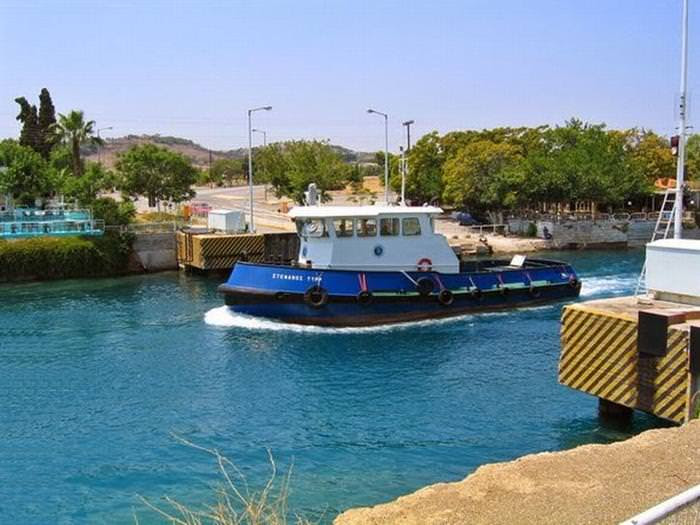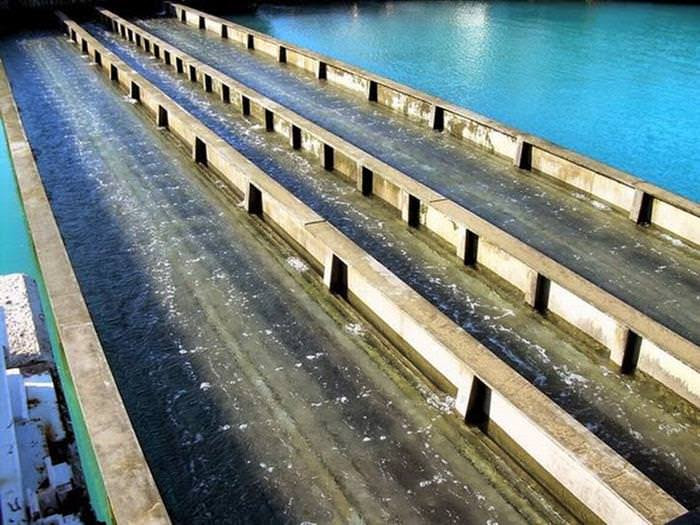 The Corinth Canal was built between 1881 and 1893 and was quite an
achievement in its day. The canal went on to save ships a 700 km
(435 mile) journey because they no longer needed to go around the
Peloponnesian peninsula. It's very narrow and can only accommodate one ship
at a time. The submersible bridges were built in 1988 and their decks are
lowered 8 meters (26ft) below the water, allowing for tall shipping vessels
to use the canal.
5. Puente de la Mujer, Argentina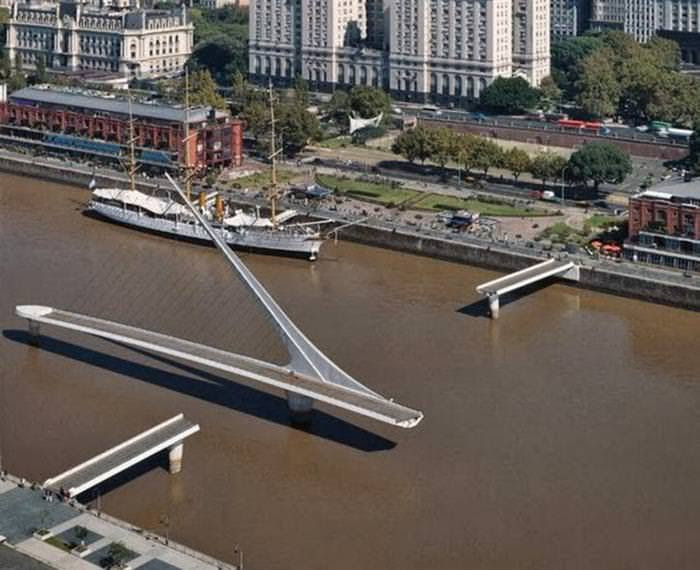 This rotating footbridge in commercial Puerto Madero, Buenos Aires, is known
in Spanish as "The Women's Bridge". This 800 ton pedestrian bridge has
two fixed sections and a middle section which rotates 90
⁰
in order to allow for
the water traffic to pass.
6. River Hull Footbridge, UK
This footbridge in Hull, Yorkshire, is also known as the Scale Lane Bridge.
An exciting feature of this bridge is that it rotates while pedestrians are still
on it. The bridge takes two minutes to open or close for water traffic
and offers pedestrians a unique experience of the city. At night, the bridge's
light
s turn on and off while the bridge moves, making for a fascinating light
show.
7. El Ferdan Railway Bridge, Egypt
Egypt's El Ferdan Railway Bridge, resting over the Suez Canal, connects
the Sinai Peninsula with mainland Egypt. This bridge is 335m (1,100 feet)
and is the world's longest swing bridge. It takes 30 minutes to open or close.
It remains open for water traffic and is only closed when the train needs to
cross the canal.
Kiel Germany's Horn River features a folding bridge, with a three-segment
bascule. The innovative bridge folds into an "N" shape. The bridge is
nicknamed Klappt-Nix-Brücke, meaning Fold-not Bridge because initially it
experienced many malfunctions.
9. Foryd Harbor Bridge, UK
This modern bridge operates a bit like a sailing boat with a mast, rigging
system, cables and pulley mechanism. This eye-catching pedestrian bridge is
located in the seaside resort town of Rhyl on the coast of Wales.
10. Slauerhoffbrug, Netherlands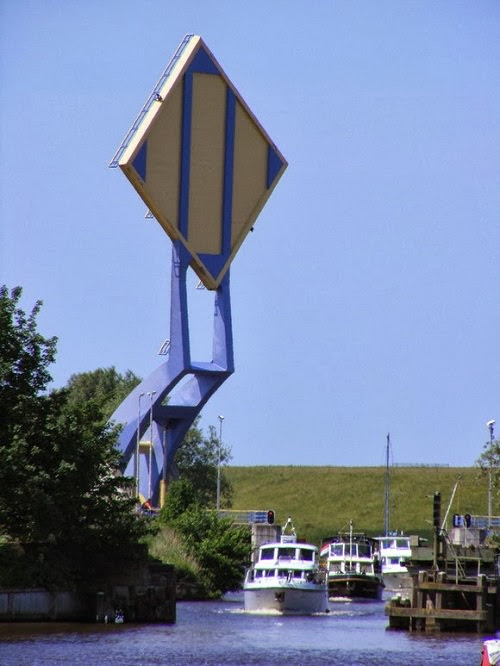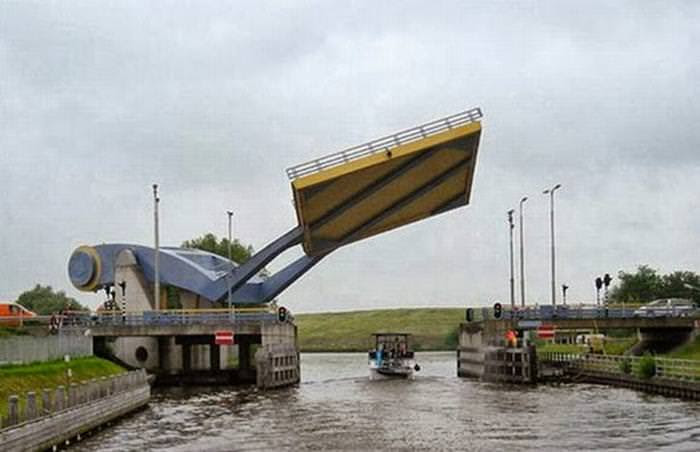 This tail bridge is located in the city of Leeuwarden and is nicknamed
the Flying Drawbridge. This yellow and blue automatic bascule bridge has a
pylon which can quick
ly raise the deck, allowing for water traffic to pass,
while only briefly delaying road movement.